Solar Monitor is a remote monitoring service which are monitoring all power generation and inverter.
Equipped with accurate power generation monitoring algorithm
The System will send alerts by e-mail at the time of error from each power conditioner's information.

Depending on the usage of 3G construction is easy.
Almost all maker of module , inverter are possible to use.
E-mail alert send automatically using monitoring algorithm.
Substantial report including SEDA report.
The current power generated situation is displayed on the digital signage anytime , anywhere.
Extensive reporting functions
Automatically sent in periodically mail generation report of daily, weekly, monthly, yearly.
Data output in CSV format is also available.
Power generation simulation value initially became the base of the business plan Comparison with is also possible.
Real-time monitor function with excellent design and diversity
It will provide digital signage that expresses such as calculated power generation forecast graphically from the current power generation conditions and weather forecast.
It also can use PC or large screen and tablet devices web browser-based.
Collectively manage multiple solar power system
You can see at the list of power stations.
Also you can see detail information when click each power stations.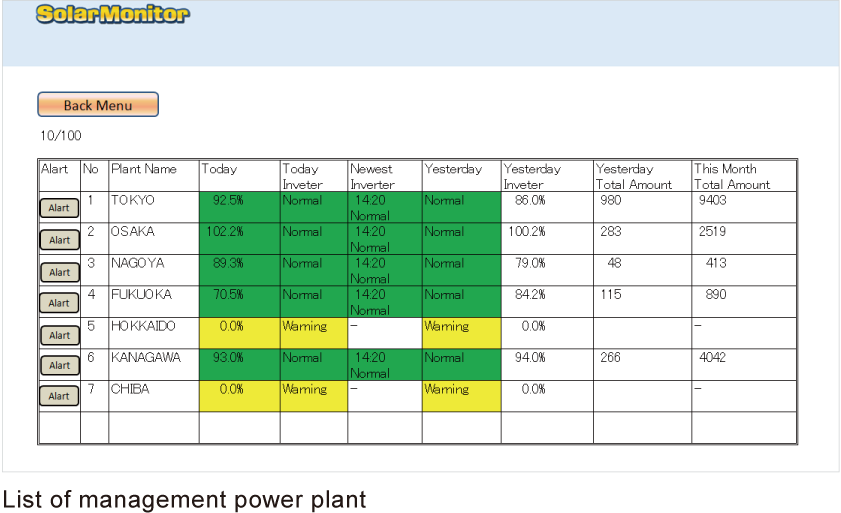 Power Conditioner monitoring function
Is carried out by data acquisition from the power conditioner, the monitoring of protective relay item.
It also will send an emergency alert e-mail in the event of a failure.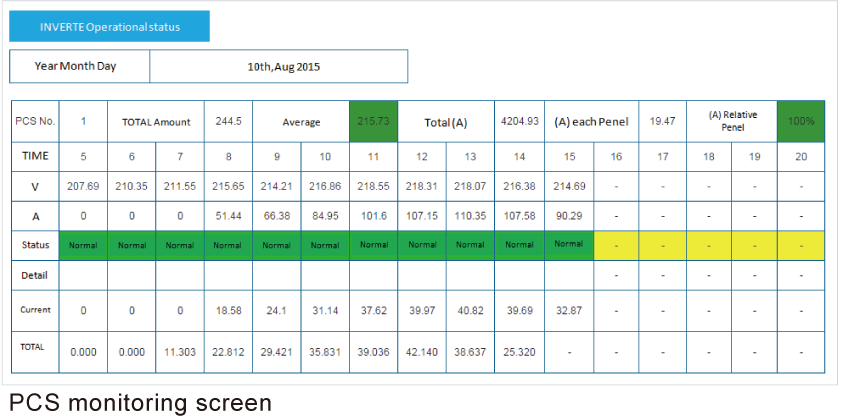 Always-on connection to the Internet
Microsoft Windows Vista/7/8
Microsoft(R) Excel(R) 2003/2007/2010
Internet Explorer(R) 8/9/10
Intel(R) Pentium(R)4 or faster processor
Recommend Google Chrome(Safari for iPad)
*If you have utilized in the product other than the above system requirements, trouble of breakage of the file will be generated.If so Please note it will be unsupported.
*The contents of the catalog, by reason of the change in the product specifications, there are times when it is subject to change without notice.